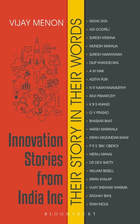 Beyond
jugaad
, that great Indian tradition of short-term fixes, what does innovation mean in Indian companies? That is the question this book addresses through a collection of stories that describe the innovation journey at over 20 companies ranging from startups to conglomerates. Told in first-person by the leaders at these companies, the stories are filled with anecdotes and examples and provide a fascinating and highly readable account of product, process, and business model innovation in Indian companies.
Read an excerpt on Amazon using the '
Look inside
' feature.
​
In the book
​
Conglomerates:​
Ratan Tata, Adi Godrej, Suresh Krishna (TVS)
MNCs:
Munesh Makhija (GE India Technology Center), Suresh Narayanan (Nestle India), Dilip Khandelwal (SAP Labs India)
Large companies:
AM Naik (L&T), Aditya Puri (HDFC Bank), NR Narayanamurthy (Infosys), Tata Motors, KBS Anand (Asian Paints), GV Prasad (Dr Reddy's Laboratories), Bhaskar Bhat (Titan)
Midsized companies:
Harsh Mariwala (Marico), Kiran Mazumdar-Shaw (Biocon), PRS 'Biki' Oberoi (Oberoi Hotels), Meraj Manal (Himalaya), Dr Devi Shetty (Narayana Health), William Bissell (Fabindia), Kiran Khalap (chlorophyll)
Startups:
Vijay Shekhar Sharma (Paytm), Raghav Bahl (Quintillion Media), Team Indus
About the author
Vijay Menon (
www.vijaymenon.com
) is a Bangalore based marketing and communication consultant and helps organisations to build, brand, and tell their story better. He has previously worked as vice president of marketing at QuEST and Infosys BPO, as a journalist with
India Today
, and as a nuclear engineer. Vijay holds an M.Tech. from IIT Kanpur and has attended the Duke-Infosys management program.
Excerpts from reader reviews on Amazon India
"I loved it for the simplicity of the language and the compelling storytelling technique where you feel like you're in conversation with some of India's most successful CEOs."
"The romantic notion is that innovation is fostered in small, hungry to grow companies. But it's the giants that have to innovate continuously in order to stay ahead. By focusing on an area that is neglected, Vijay Menon has struck a rich vein of material."
"The book brings out the often obscure world of corporate decision making to the open and we get fascinating glimpses into how some of the most innovative and creative decisions in Indian business were made."
​
Talks & Events
Interview with Pavan Chawla
, 24 Oct 2017 (Video, part of Pavan Chawla's master class series with Kiran Khalap)
Interview with Jayanth Nanjappa, financial analyst
, 9 Oct 2017 (Audio)
Panelist, NMIMS Business Conclave,
23 Sep 2017
Panelist, Bangalore Business Literature Festival,
9 Sep 2017
-
Opening remarks
(Video)
-
Q&A on common traits of business leaders
(Video)
TiE Chennai,
18 Aug 2017 (Video)
Media
A note on media reviews
Uday India
, 25 Jan 2018
Amar Ujala
, 22 Oct 2017
Mint
Yourstory.com

The Quint,
5 Sep 2017
Facebook Live with The Quint,
22 Aug 2017
Contact
For interviews and consulting, speaking, and writing inquiries, please email: vijaym@vijaymenon.com
Home
---