Innovation Stories from India Inc.

​Vijay Menon | Bangalore | vijaym@vijaymenon.com
Innovation Stories from India Inc: Their Story in Their Words
is published by Bloomsbury and was released in July 2017.
Buy the book
Amazon.in
|
Amazon.com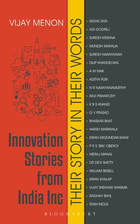 Beyond
jugaad
, that great Indian tradition of short-term fixes, what does innovation mean in Indian business? That is the question this book addresses through a collection of stories that include first-person accounts by business leaders from conglomerates, MNCs, large and mid-sized companies, and startups.
Backed by research and filled with anecdotes and real-life examples, the stories provide a riveting inside view of how India Inc innovates and executes.
This is probably the first time so many business leaders have come together in one place to provide an authentic first-person account of their innovation journey.
The book is not just a good read but can also be a supplement at B-schools and a great corporate gift.
---
In the book
​
Conglomerates:​
Ratan Tata, Adi Godrej, Suresh Krishna (TVS)
MNCs:
Munesh Makhija (GE India Technology Center), Suresh Narayanan (Nestle India), Dilip Khandelwal (SAP Labs India)
Large companies:
A M Naik (L&T), Aditya Puri (HDFC Bank), N R Narayanamurthy (Infosys), Tata Motors, K B S Anand (Asian Paints), G V Prasad (Dr Reddy's Laboratories), Bhaskar Bhat (Titan)
Midsized companies:
Harsh Mariwala (Marico), Kiran Mazumdar-Shaw (Biocon), P R S 'Biki' Oberoi (Oberoi Hotels), Meraj Manal (Himalaya), Dr Devi Shetty (Narayana Health), William Bissell (Fabindia), Kiran Khalap (chlorophyll)
Startups:
Vijay Shekhar Sharma (Paytm), Raghav Bahl (Quintillion Media), Team Indus
About the author
Vijay Menon (
www.vijaymenon.com
) is a Bangalore based marketing and communication consultant who helps organisations to tell their story better. He has previously worked as a marketing leader in the IT industry, as a journalist with
India Today
, and as a nuclear engineer. Vijay holds an M.Tech. from the Indian Institute of Technology Kanpur, and has attended the Duke-Infosys executive program.​
Home