Tell Your Story Better
​​
​Marketing. Communication. Brand Building.

​
Vijay Menon | Bangalore | vijaym @ vijaymenon.com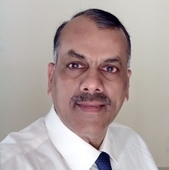 Marketing and communication consultant with 30 years' experience across technology, journalism, and marketing. Author of a book on
innovation in India Inc.
to be published by Bloomsbury.
I help companies to tell their story better. Work includes setting up marketing and corporate communication programs from scratch, enhancing existing ones, managing special projects such as rebrands, and writing.
​I have previously worked as vice president of marketing at Infosys BPO and QuEST, as a journalist with India Today, and as a nuclear engineer. I hold an M.Tech. from IIT Kanpur and have attended the Duke-Infosys executive program. See
LinkedIn
for a resume.
Specialties: marketing, marcom, corporate communication, investor relations, brand building
Marcom Consulting
I have headed marketing, marcom, corporate communication, and investor relations at technology companies and can help you build, brand, rebrand, and tell your story effectively to widely different stakeholders -- customers, media, analysts, investors, employees, and the general public.
How to build, brand, and tell your story better
Company rebrands - my experience
Writing
I have been writing professionally for over 20 years and enjoy telling brand stories.
​
Business Writing:
I have written a wide range of marketing collateral, white papers, articles, and speeches, mostly for technology companies. I no longer take up marketing collateral work but am open to long form content writing projects such as articles, white papers, and
CEO speeches
.
Media Articles:
I have written extensively for the media both as a journalist and as an external contributor. My articles have appeared in
India Today
(35+ articles), The Hindu Business Line (15+ articles and editorials), Economic Times, Indian Express, The Hindu, Hindustan Times, and Deccan Herald.
Books
Innovation Stories from India Inc
.
: A work in progress book to be published by Bloomsbury.
Malabar
: A proposed non-fiction book on the Malabar region of Kerala.
Invited contributor,
Corporate Communication - a 21st Century Primer
, Response Books, 2004.
The Kalpakkam Septet
, a collection of short stories as part of a diploma in creative writing.
Blog Posts
Startups, don't be a jerk
Want to pep up your content marketing? Write like a journalist.
Are you gambling your life away in a startup?
​